Top Electric Skateboard Brands-Companies-Manufactures In 2021
Do you want to learn more about Electric skateboard brands?
Then you should read this article!
Before buying an electric skateboard for yourself, you should decide which type of model you need and it's desirable to know what is offered on the market. The best beginning in buying an electric skateboard is learning about the electric skateboard companies. Therefore you'll know which electric skateboard manufacturers are expensive or cheap, and what are the unique features they offer in their models. Here you can read short reviews on the best electric skateboard companies on the market.
Top Electric Skateboard Brands
Boosted Electric Skateboard Brand
Boosted is offering several of the models on their official site and at online retailers such as Amazon. Boosted electric skateboards are one of the expensive ones on the market. However, for that money, you'll get high-class boards with excellent quality. One of the unique features is their composite Super Flex deck that makes the board very durable and flexible at the same time. Also, all the models have dual belt motor that ensures great acceleration, so this brand is ideal if you want to climb very steep hills.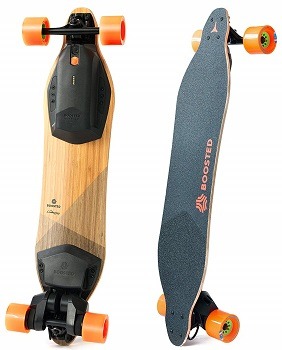 Also, it produces one of the fastest boards that have a very durable and long-range battery. Therefore, if you want to go to city traffic, buy the board from this brand. On the official site, you can easily compare models, and learn about riding. Also, you can find great accessories and replacement parts for the board. The company offers a 1-year limited warranty with all boards and 30-day return policy.
Evolve Electric Skateboard Brand
This brand is popular for manufacturing the fastest electric skateboard models on the market. Evolve electric skateboards have very strong dual motor of 3000W, which makes them one of the strongest one on the market. If you need a very fast model with very long battery range, you should buy from this brand.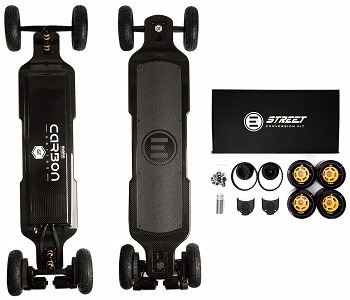 The headquarters of the company is in Australia, but they're also located all over the world. The company produces high-quality skateboards that will last you a long time. Unlike most brands, they don't produce only street electric skateboards, but all-terrain models as well. With the bord, you'll get a 1-year limited warranty and 7-day return policy. The customer service is very efficient and friendly.
Maxfind Electric Skateboard Brand
If you need a certified waterproof skateboard, the Maxfind brand is the right choice. They make street electric skateboard with great features for a very reasonable price. They offer boards for less price than the previous two brands, with similar high-quality features. You can find models with carbon fiber composite deck and CNC precision-machined trucks that ensure great responsive drive. The waterproof design is unique, so you can ride the board at any weather.
Additionally, the high powered motor, high speed, and long-range will ensure great skateboarding experience. The company has warehouses in the US and Europe. On their official page, you can find customer reviews for all the models, as well as specifically made accessories and replacement parts for the boards. Skateboards are covered with a 6-month limited warranty and they offer 7-day return policy.
Razor Electric Skateboard Brand
It's one of the cheaper brands that have great models in their offer. They aren't so fast or long-ranged as the ones from previous models, but ideal for short trips at the medium speed limit. This brand is also very popular for making electric scooters, hoverboards, kick scooters, electric rides, etc.
Their official website has a bigger offer of scooter accessories, than of the accessories for electric skateboards. Therefore, the replacement parts or accessories for the models of this brand should be searched at online retailers such as Amazon. Their boards have lower powered motors, but they'll ensure great casual ride in the neighborhood. Also, they more suitable for young kids and teenagers than very fast models.
Swagtron Electric Skateboard Brand
Swagtron is also one of the cheaper brands which offer great features in their skateboards. Firstly, all their models are UL 2272 certified which means they meet all safety requirements. They're adding a unique feature in their models, which is the SentryShield battery technology. This technology contains the multilayered protection around the battery, so you can be sure it will last longer and maintain its performance on a high level.
Like the previous brand, this one also produces low-powered skateboards that have speed limit up to 15 mph. The range is in general suitable for shorter trips. However, a durable and flexible deck with a high weight limit makes it ideal for street skateboarding. It's easy to ride it, and it's suitable for all riders older than 9 years. Skateboards are covered with a 1-year limited warranty.
Koowheel Electric Skateboard Brand
Beside boards, this brand also manufactures the hovershoes. The brand offers both quality and warranty in their products. The warehouses are located both in the USA and Europe where you can also easily find repair centers. This is very user-friendly because professional employees can quickly replace damaged parts and repair your board under warranty. Any manufacturing defects on skateboards are covered with a 1-year limited warranty. Koowheel it's one of the great brands from which you can buy skateboard because of a reasonable price for high-quality.
The manufacturers combine the best configuration of motors, controllers, and batteries for the best performance. The very unique procedure is that each skateboard is tested and run 250 minutes before delivery, so you can be sure delivered board isn't damaged. Customer service is very user-friendly and they respond quickly. The models have a dual motor with medium power, but it supports very high speeds that can be compared with those of Evolve or Boosted brand.
EMAD Electric Skateboard Brand
This brand is an ideal choice if you want a high-quality off-road electric skateboard. Unlike previous brands, this one is manufacturing the boards that are suitable for driving at high speeds on all terrain. Therefore the tires are around 10" big, which is much bigger in comparison to ones that other brands manufacture. EMAD skateboards combine extreme sports and skateboarding for a unique experience
The boards have medium-powered motors, that can support fast driving. This is ideal for climbing steep hills and riding comfortably on uneven terrain. They produce pneumatic tires with shock absorbers so you don't feel any bumps along the ride. Also, the deck is produced with very sturdy and high-quality materials to avoid damages during the off-road ride.
Yuneec Electric Skateboard Brand
Yuneec isn't so popular with the electric skateboards, because their main branch is the manufacturing of drones. One of their known models of electric skateboards is Yuneec E-Go 2. It's one of the cheaper models which the high-quality. As the models of Razor and Swagtron, this one is more suited to simple and casual riding around than for intense performance. The brand offers a skateboard with a very nice set of features, great battery life and very easy controlling od the board.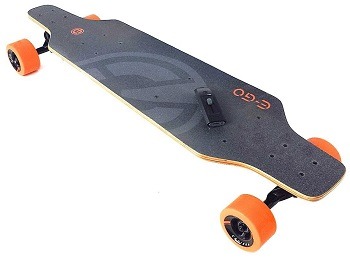 Although cheap, it features regenerative braking that extends the battery range. So you can drive longer trips which is an advantage in comparison to Swagtron or Razor brand. The model is manufactured with the low powered motor, but it can reach high enough speed. The material used for deck and wheels are firm and high-quality made, so you can be sure that their boards will last you long. If you're looking quality for the best value, this brand is the right choice.
Skatebolt Electric Skateboard Brand
Like Razor, Swagtron, and Yuneec, it's one of the cheaper brands. One of the great user-friendly unique features is the waterproof design of their skateboards that is IP67 certified. Therefore, you can ride them in any weather. Also, the remote controller has a very intelligent LCD screen remote. They have medium-powered motor but can reach very high speeds that can be compared with models of Evolve and Boosted brands.
Their models also have an integrated regenerative braking system to extend battery range. The company was established in 2016. and they are located in the USA. They have a maintenance service center in LA. There they run diagnostics on the board and repair it if damaged. The board's parts are covered with a 6-month limited warranty.
Conclusion: What's The Best Electric Skateboard?
After covering all-electric skateboard brands, I can conclude that each of them has an offer for a certain type of buyer. You should decide on your budget and expectations from the skateboard, and then choose the best electric skateboard manufacturers for you. Then compare models, and you'll find an ideal board for your needs and budget.