Top Maxfind Electric Skateboard Models Review (Price & Specs)
Are you interested in buying a Maxfind electric skateboard?
But you don't know enough about the brand and its models to make a decision?
Then this article will be very useful to you!
Here you can find out general information about the benefits that Maxfind brand offers with their electric skateboard models. I will review two main models on the market, describe their specs such as design, weight capacity, battery type, motor power, price, etc. You will learn what you can get in the Maxfind electric skateboard kit and maybe you decide to assemble your own skateboard. You can read about parts and accessories and helpful advice about assemblage. If you want an answer to why buying from Maxfind brand, continue to read and find out all the information you need.
Why Buy Maxfind Electric Skateboard?
Lightweight Design And Durable Materials
All models from Maxfind are made from fiberglass and polypropylene materials that make it durable, firm and waterproof. Therefore they will support high weight and endure long rides on rough terrains, and at the same time, the skateboard is lightweight so you can easily carry it everywhere you go.
The Braking System
The unique braking system allows you to stop instantly, even when you driving at high speeds. That is a very practical feature if you have an obstacle ahead of you and need to stop immediately. Also, it easily goes backward and forwards.
Powerful Motor And Durable Battery
All models have at least 500W power motor that allows you to drive it at high speeds. The Maxfind is the perfect choice if you want to go with your skateboard at high speed on roads or any other terrain. The battery that powers the system is durable and rechargeable which is very user-friendly. Even when the battery is empty, you can continue to ride without electricity, like on a regular skateboard.
Firm Remote Control For Easier Navigating
The wireless remote control has a variety of functions that help you with navigating the skateboard. It's made from durable materials so it won't break easily, and you can manage the speed, direction, different modes, etc. easy and fast with your hands which ensures better driving experience.
Wheels Ideal For Long Driving On Rough Terrain
The wheels are made from polyurethane material and they come in different sizes. You can find the 2.7 inches big up to 3.5 inches big wheels that are ideal for long rides at high speeds. Therefore, you can be sure that Maxfind electric skateboard will be stable and last longer.
Quality Certificate And Warranty
All parts of the Maxfind brand are covered with the 1-year limited warranty in case of factory malfunctions or damages that aren't caused by misusing the product. Besides that, all products have IP65 certificate that approves the waterproof design and materials of a skateboard, so you can ride it no matter the weather. Also, the boards have CE, FCC, ROGHS, MSDS and UN38.3 certificates and it's fully certified for airline travel.
Maxfind Electric Skateboard Review
Maxfind Electric Skateboard Max C
The Maxfind Mac C models are one of the lightest skateboards because it weighs only 8.1 pounds. Therefore it's easy to carry it with you through the town or park, and also it's more simple to manage it. The deck is flexible which increases stability at higher speeds.

The skateboard is 27.67" long, 9.37" wide and 5.83" high. Because of the firm materials, the skateboard has a maximum weight capacity of 176 pounds which is enough for one kid or adult to ride it. The great user-friendly feature is the remote control that has two riding modes and allows you to adjust the speed of the motor with your hands.
The remote control runs on the battery that has 450mAH battery capacity. The charger for it is included and the battery will be fully charged after 30 minutes. The controller is made from high-density ABS material which makes it durable and long-lasting.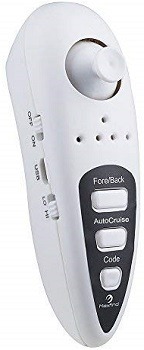 Once fully charged, the skateboard's maximum range is about 8 miles which is great for short trips.The highest speed possible is 14 mph, which is powered with the 500W of motor power.  The motor is placed within the wheel and uses the lithium-ion battery that has 2.2AH, 36V capacity as a power source. This rechargeable battery comes with a specifically made charger.
The charging will last for about one hour, and you should follow the detailed instruction about handling the battery so it can last as long as it's possible. The wheels are made from polyurethane and they're 2.76 inches in diameter which is the ideal size for long fast riding on rough surfaces. The tires, motors, battery, and motherboard are replaceable independently and the skateboard maintenance won't cost you a lot of money.
Pros:
flexible deck for better stability
lightweight design
Cons:
wheels too big for doing tricks
shorter mile range and lower speed
Maxfind Max 2 Model
This model has an rechargeable LG 18650 lithium-ion battery so you don't have to buy new ones when tehy get empty. The universal wall charger is included in the package for the battery. The battery has 4.4AH 36V capacity, and it's fully charged after approximately 2 hours. The battery is running the 5060 motors with 540W power.
The wheels are strong and made from polyurethane which makes them durable enough for driving on curved terrain and roads. The diameter of the wheels is 3.54 inches. They are bigger in comparison to the previous model and even more suitable for long driving at higher speeds.
The highest speed it can reach is 18.6 mph, and there are two speed modes: low and high. The maximum speed in low mode is 16mph. The maximum range of skateboard is up to 16.2 miles, so this model is ideal if you want longer trips at higher speeds. Maximum weight capacity is 265 pounds.
The deck is 31" long and made from fiberglass and polypropylene. The grip tape is made from PVC and PEA, it's soft and non-slip. The Maxfind electric skateboard remote controller is included, and it helps you to manage the skateboard without actually touching the skateboard. It's made from durable high-density ABS material so it won't break easily if it slips from your hands. The remote control battery has a 480mAh capacity and it's fully charged after 30 minutes.
The wireless controller allows you to control speed, change forward and backward direction, brake or go ahead and change the skateboard to cruise control mode. The code button is for pairing recognition, which is described in the user manual.
The package includes a remote, wall charger, USB-cable and instruction manual in which you can read about managing the batteries from the board and remote control, and instructions about assembling the model. The skateboard is covered with a 1-year limited warranty.
Pros:
bigger wheels for more comfortable ride
higher speed and mile range
higher motor power and weight capacity
Cons:
longer battery charging time
Maxfind Electric Skateboard Kit
The previous two models were mainly assembled in the factory, and you just have to open the package when delivered, assemble small part of the skateboard and do the pairing recognition between the remote control and the skateboard.
But if you're more creative and want to assemble the skateboard yourself, then this Maxfind electric skateboard kit is an ideal choice for you. The kit includes the wheels, the remote controller,  a control box and a motor and all the tools needed to do the installation. However, the deck isn't included.
The instruction manual in the package should help install the skateboard correctly so you can drive it safely afterward. The assembled skateboard should have a maximum speed of 10mph with a maximum range of 8 miles.
The included battery-powered motor has 500W energy. The remote control has two driving modes and it allows you to change forward and backward, to break or go forward. The wheels are made from polyurethane and 2.75 inches big in diameter, while the deck is made polypropylene and fiberglass. Both are durable and made for curved terrain.
Pros:
assemble the skateboard yourself
all tools are included
Cons:
lower speed in comparison to other models
the deck isn't included
Maxfind Electric Skateboard Parts And Accessories
When searching for parts you can buy branded replacements or universal ones. If the important parts, such as a motor or remote control, break I recommend you to try to find a specifically made one for your model. In case of wheels, batteries, chargers or grip tape you can go with the universal ones. Accessories for your Maxfind electric skateboard can be different types of wheels you can change, grip tapes, the helmet, trucks, deck and all kinds of tools you can use to assemble your own skateboard if you've bought a skateboard kit. In case you want to know more, you can read my article about universal electric skateboard part and accessories and how they work.
The Assemblage Of The Skateboard Models
As I've already mentioned, if you've bought the kit you will have to assemble all the parts by yourself. In case you want to drive the skateboard as soon as possible, you can buy already pre-assembled models such as Max 2 and Max C model. You will get them already installed and all you have to do is the pair recognition between the board and the remote control by following instructions described in the user manual you will get with the board in the package.
Conclusion: Which Maxfind Electric Skateboard To Buy?
Considering Maxfind electric skateboard specs, the best model you should buy is the Maxfind Max 2 model since it has much higher speed and weight capacity, bigger wheels and longer range than the Max C model. If we would compare prices, the cheaper option is Max C model, but considering both price and specs, the Max 2 model is the best investment. I will recommend Maxfind electric skateboard kit only if you really like to do DIY projects but keep in mind that this kit doesn't include the deck so you have to buy it separately. Also, the motor has less power so it will support less speed in comparison to Max 2 model.