Top Razor Electric Skateboard Models & Part For Sale Reviews
You're thinking about buying a Razor electric skateboard?
But, you're not sure why to choose Razor board among the others?
Take a little time to read my review on the brand and what's offering. By knowing the benefits of the brand and more specifications of certain models, you will be able to decide better if the Razor is the right choice for you. They're offering both regular skateboard models, but also ripstik caster board electric models. Razor risptik electric caster boards are little different than regular ones and they offer more opportunities for advanced skills and tricks.
Advantages Of Razor Electric Skateboard Models
AllProducts Come With A Warranty
Great thing is that all Razor electric skateboards are covered with the warranty. There is a 90-day warranty on electric powered parts and 6-month limited warranty on non-electric powered parts on the Razor ripstik skateboard. The warranty can't be used if the product is rented, modified or damaged caused by the assembly, maintenance, storage or misuse.
Strong Rechargeable Battery For Long & Fast Ride
The Razor ripstik and electric cruiser skateboards have lithium-ion battery. Most of the models such as RazorX cruiser electric skateboard have a 22V powered battery. The batteries are rechargeable so you don't have to change it often. Also, the high-powered batteries are allowing high speeds up to 12 mph and it will last for approximately 40 minutes of the continuous ride. The battery chargers are always included.
Durable Materials For Lightweight And Flexible Design
The electric cruises Razor boards are made from a few maple layers or in case of Razor ripstik electric models, products are made of fiber-reinforced polymer constructions. These constructions ensure a lightweight design that is crucial for responsive riding and cruising through the ride park and doing tricks.
Wireless Remote Control For The Motor
The remote control is wireless with 2.4Ghz frequency. Most of the models include the remote control which has additional wrist strap for more practical holding. You can adjust the motor speed with your hands and shut down the motor whenever you want.
Can Convert From Electrical To Manual
The great feature of the Razor electric models is when you run out of battery, the system can go manual and you can continue to drive the skateboard as you would a non-electric regular one. Also, the electric models have unique soft-start kick activated technology.
Razor Electric Skateboard Reviews
RazorX Cruiser Electric Skateboard
This Razor electric skateboard cruiser has 29.7 inches long deck made of high-quality 5-ply maple. The maple makes the deck durable so it can support the weight up to 220 pounds. But, at the same time is lightweight so you can enjoy the flexible ride and easily do a lot of tricks.Regarding the size and the weight capacity, It's suitable for kids older than 9 years and adults.
The motor has 125W energy power and it's powered with a lithium-ion 22V battery. It's located in the wheels and supported by kick-to-start technology. The motor and battery allow this electric Razor skateboard to go fast. The maximum speed it can reach is 10mph.
The battery is rechargeable and it comes with the specifically made charger for it. It's very durable, therefore it allows you to ride your skateboard continuously for approximately 40 minutes.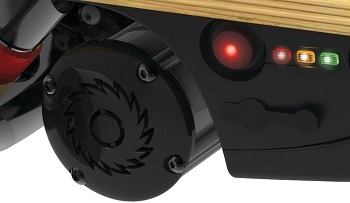 The model includes wireless 2.4 GHz remote control. The remote comes with a replaceable wrist strap so you can hold it with you easily without slipping and accidentally breaking it. With the remote control, you can adjust speed.
High-gripped urethane wheels are ideal for long and fast driving, and their quality material enables you to drive even on the rough surfaces. They are 3.2 inches big. The geared rear-wheel and kingpin trucks allow great speed with stability and controlled turning. It has perforated grip tape.
Pros:
high weight capacity
big and durable wheels
lightweight and durable material
Cons:
wheels better for riding than doing tricks
the maximum speed could be bigger
Razor Ripstik Electric Caster Board
Unlike a previous regular skateboard, this Razor ripstik electric caster board has a different construction. The steel torsion bar connects the two decks and it's made from fiber-reinforced polymers. This design allows acceleration and turning without pushing.
Because of the different construction, the driving of it isn't the same and you have to learn to maintain your balance on it.  So keep in mind that riding it requires already developed basic skills in riding a skateboard. This model also has a weight limit of 143 pounds, therefore it's suitable for kids older than 9 years and adults.
The concave made deck is slip-resistant which makes it easier to control. The deck plates are removable which is a great practical feature if you want to change your board's design. The board is 27" long, 9" wide and 4.5" high. It has 360-degree inclined caster trucks for more flexible turning and riding.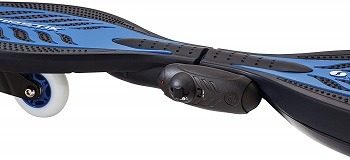 This model has an airless polymer tire that contains a motor. The tire is made from durable materials that will last even after a rough ride and protect the hub motor in it.The high-grade urethane wheels are 2.6 inches big.
The motor has 100W power energy, which is driven with 22V lithium-ion rechargeable battery. The battery comes with the specifically made charger and supports continuous driving up to 40 minutes.100W motor energy is supporting speeds up to 10mph. This power core technology requires no maintenance since there is no alignment, chain nor chain tensioner. The ripstik caster board electric motorcan be adjusted with the 2.4Ghz remote control.
Pros:
smaller wheels that are suitable for both speed and tricks
the inclined 360-degree caster trucks for better pivoting
removable deck plate
Cons:
smaller motor power
smaller weight limit
not suitable for beginners in skateboarding
Razorx DLX Electric Skateboard Review
The Razor DLX electric skateboard comes in black color. Its deck is 34.25 inches long and it's made from 7-ply maple. The maple gives it durability, but it's lightweight at the same time so you'll be able to control it more easily and do tricks. The maximum weight capacity is 220 pounds and it's suitable for kids older than 9 years and adults.

The custom kingpin trucks are enabling increased turning and stability. This model also has advanced kick-to-star power technology. The motor has 150W power energy that's powered with a 22V lithium-ion battery. The battery is rechargeable and the specifically made charger for the battery is included. Once fully charged, the battery will allow you to have 40 minutes of continuous drive and fun.
This model has regular skateboard design with 4 wheels. The wheels are 3.2 inches big in diameter, 80a PU cruiser type. These are a bigger type of wheels which means that you will be able to go faster on more rough surfaces. The hub motor is stored in the wheel so the skateboard is driven with rear wheels.
Because of the high powered motor, this skateboard can go the fastest in comparison to other The maximum speed is 12mph. The 2.4Ghz wireless remote control allows you to control the speed and the motor with your hands.
You won't be able to find this model at online retailers such as Amazon, and it there is no information about when it will become available. Previous models are as good as this one, therefore I recommend you to buy them instead of this one until it becomes available online.
Pros:
the longest deck
the highest motor power and speed
more durable because of 7-ply maple construction
Cons:
doesn't have a removable deck
the wheels aren't suitable for doing tricks
Razor Electric Skateboard Replacement Parts And Accessories
The brand is offering all replacement parts and accessories for your cruiser electric skateboard. One of the parts that can be often replaced is Razor electric skateboard charger and battery. Always buy a specifically made battery and the charger suitable for the battery. In that way, your battery will last as long as possible. Also, you don't have to worry if the remote brakes because there is a Razor electric skateboard replacement remote. Razor is offering all kinds of wheels, foam and rubber handle grips and helmets. These accessories are available in different designs and color and most of them are universal parts so check out my post about a universal replacement part and you might find what you are looking for.
Razor Electric Skateboard Assembly
The assemblage of these skateboard models is very easy and simple, and it can be done by one person. Most the models don't need much of assemblage at all, because 99% of it is already assembled in the factory. The deck comes in one piece, connected with the wheels and all electrical parts. When you get the package, you just check if everything is included. After that, you just need to put the batteries in the remote control and charge it. Afterward, you need to pair the remote with the skateboard. If you want to read more about it, check out the online user manual for a skateboard with assembly instructions included in it.
Conclusion: Why To Buy Razor Electric Skateboard?
The brand offers a variety of models and you can pick between the Razor ripstik electric models or regular Razor board.The RazorX Cruiser electric skateboardis more suitable for advanced skateboarders, while the second one is a better choice if you're a beginner. Both Razor ripstik and regular electric model have hub motors and advanced kick-to-start technology. If you want the high-performance motor powered with a long-lasting battery and wireless remote controlling of the speed, this brand won't disappoint you.